The Start-Up of You: Adapt to the Future, Invest in Yourself, and Transform Your Career by Reid Hoffman and Ben Casnocha
This is a great book for anyone employed (or looking for employment) who is concerned about the changing landscape of employment. The disruptive creation of our modern economy has mandated we change the way we view and manage our careers. Reid Hoffman, one of the co-founders of LinkedIn recommends adopting the strategies of a startup entrepreneur – nimble and constantly reinventing themselves.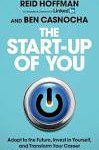 Here are some highlights of the book from the publisher's summary.
This book isn't about cover letters or resumes. Instead, you will learn the best practices of Silicon Valley start-ups, and how to apply these entrepreneurial strategies to your career. Whether you work for a giant multinational corporation, a small local business, or are launching your own venture, you need to know how to:
Adapt your career plans as you change, the people around you change, and industries change
Develop a competitive advantage to win the best jobs and opportunities
Strengthen your professional network by building powerful alliances and maintaining a diverse mix of relationships
Find the unique breakout opportunities that massively accelerate career growth
Take proactive risks to become more resilient to industry tsunamis
Tap your network for information and intelligence that help you make smarter decisions
A revolutionary new guide to thriving in today's fractured world of work, the strategies in this book will help you survive and thrive and achieve your boldest professional ambitions. The Start-Up of You empowers you to become the CEO of your career and take control of your future.