Learn more about who we are.
At the heart of it all: A financial planning experience built on compassion, connection, and commitment
At FSG, we approach each and every client relationship with our hearts fully invested. We are dedicated to creating a financial planning experience that is rooted in caring, compassion, and genuine connection. Our goal is to form relationships that stand the test of time, built on mutual trust and respect. 
We do Everything with Heart
In dealing with clients and with each other, we act with compassion, empathy, respect, and flexibility. We are present and engage in active listening. In big things and small, we are guided by our "internal compass" that drives our behaviors to act and respond from the heart.
We are responsive to your inquiries. We show up on time to meetings and follow-up with notes and action items. We operate in integrity and you can count on us to do what we say we're going to do.
We know that peace of mind starts with trusting that you have access to full information to help you make decisions about your great life. We believe in transparency in our working relationships--with clients and with each other--through honest and forthright communication, even when the topic is difficult.
Collaboration with clients and colleagues is an every day process at FSG as we ensure we're bringing our highest value to our clients and each other. We value and respect the differences of individuals. We take the time to work together toward the common goal of helping our clients live their Great Lives.
In addition to the hours required to maintain various professional designations held by our team members, we encourage and support other opportunities to engage in continuous learning. We recognize that learning occurs formally and informally and we remain curious when seeking to learn from clients, each other, and industry experts. 
These core values inspire every thing that we do.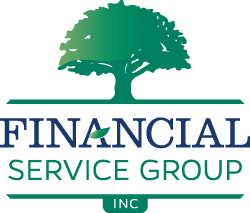 We are on a mission to deliver exceptional service that exceeds your expectations. Our commitment to excellence begins from the moment we start working with you and continues through every interaction. With an eye on industry best practices and a passion for innovation, we strive to make your experience with us truly one-of-a-kind. Join us on a journey toward a financial future where you are inspired and empowered to live your great life.
Submit your email to subscribe to our email newsletter for our latest news, articles, and upcoming events.
FINANCIAL SERVICE GROUP INC.

Copyright Financial Service Group All Rights Reserved © 2022