Fee-Only Financial Planning and more
Financial Service Group provides fee-only financial life planning including retirement planning, investment planning, tax planning/preparation, career asset management and elder life planning services to our clients. We are not paid through commissions from the sale of financial products. In fact, FSG is prohibited from accepting commissions.
Rather, you pay us a retainer for the wide range of service we deliver to you. That's it! No commissions and no surprises– and no sliding scale of charges based on how your portfolio is performing at a given time. Our completely transparent Relationship Fee retainer starts at $6000 and determined by factors (like your total net worth and income) versus a variable charge based solely on the size of your investment portfolio. This fee structure reduces the likelihood for conflicts of interest and better aligns with the wide range of financial life planning services we offer. It also keeps the focus of our work together on defining and achieving what you define as your great life instead of only being about investment performance.
See how your best interest always come first
In the beginning of our relationship, we'll get acquainted and work to identify goals and create a financial plan that aligns with the things that are most important to you. Then through the years we'll continue to monitor, evolve, and build your peace of mind about your financial plan, retirement plan and investment plan so you can concentrate on your future with confidence and live your great life every day.  We even have a process for if or when our relationship concludes so you'll never be without a plan for "what happens next."
Creating a long-term relationship
The Beginning – Getting the relationship started
<!============= Process Steps Template Designer 1.3.2 =============>
Find Your Fit

Getting to know each other and ensuring we're a mutual fit. If not, we'll help you get where you need to be.

Discovery & Goal-setting Meeting

Time to dig a little deeper into what's important to you

Alignment Meetings

This is where we work together to align your money with your life.

Implementation

Now it is time to take action with us by your side
Our process begins with a no-cost first meeting to discover if there's a mutual interest in beginning an engagement. Making a decision to work with a financial advisor is an important one and we appreciate your interest in considering us as your partner. We stand behind our commitment to help you Find your Fit. That means if during our first meeting either of us decide we're not the right fit for your financial planning needs, we'll help you find resources and/or a different type of financial advisor who may be more appropriate for you.
After our first meeting, where we learn a little about you and your goals, we have a discovery and goal setting meeting where we dive right into where you are today and where you're heading. Relax in our home-like environment with a cup of coffee and a conversation with your new financial advisor and partner. We pride ourselves on creating an environment where you can feel safe and at ease talking about your personal finances, retirement plans, investments, aspirations, family, career, goals, and life in general.
From there we have several meetings where we work with you to align your money with your life. We don't push financial products, we help guide you to the strategies and investment tools that best fit your needs and align with your goals. Typical topics we cover and develop strategies for include:
The Middle – Living your great life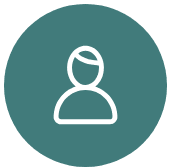 You're at the Center
|
|
Once we've begun implementing the financial planning strategies to help you live the great life you've defined, our relationship is just getting started! We'll meet with you several times during the year to monitor your financial plan and how it's aligning with your goals. You're always at the center of the relationship that gives you:
<!============= Process Steps Template Designer 1.3.2 =============>
Review Meetings

About every six months we meet with rotating agendas to keep you on track

Tax Advice & Preparation

To help you keep more of what you make

Investment Management

Low-cost, research based portfolios

As Needed Meetings

No additional cost, because life happens

Trusted Providers

Other people you can count on
Review meetings with rotating agendas to keep you on track
Tax advice and preparation to help you keep more of what you make
Investment management offering low-cost, research-based portfolios
The End – When it's time to part ways
One of the things we're often asked is "What happens to my financial plan if I die or if my spouse dies?" You need to know that your family will be taken care of in the event of your passing. We have lots of experience in helping families during this "final" transition. We'll continue to work on your behalf with your surviving spouse and heirs to your estate. We'll make sure your wishes are honored, and if appropriate, enter into a new relationship with your heirs to help them with their financial well-being beyond your life.
<!============= Process Steps Template Designer 1.3.2 =============>
End of the Relationship

We know everything must end

Death

Afterall, no-one lives forever

Estate Distribution to Heirs

We will continue to work on your behalf

Financial Decisions of Your Heirs

If desired, we can work with your heirs
And yes, some of our clients opt to leave us and go a different path. If that's the case, we have a completion process for ensuring the financial planning work we've done together isn't lost while transferring your plan and accounts to your new provider. Even if it's not with us, we work to ensure you're on the path to your great life and all you have planned for it.
<!============= Process Steps Template Designer 1.3.2 =============>
End of the Relationship

We know everything must end

Choose a Different Path

No long-term commitments required here

Transfer of Plan & Accounts

We have a process to make sure the work we've done together doesn't get forgotten
Let's chat! Reach out today to connect with us.
We understand the apprehension that comes with planning for your future. Our no-commitment, free consultation with our trusted CERTIFIED FINANCIAL PLANNER™ advisors will put you at ease and show you all that Financial Service Group can offer. Contact us today and start planning for your great life.
Copyright Financial Service Group All Rights Reserved © 2022