Veterans Outreach of Wisconsin is one of the organizations supported by Financial Service Group's charity referral program. Through the program, we donate $100 in the name of any client who refers someone they know to come in for a no-cost introductory conversation. We feel so strongly about giving back to our community that we'll give the $100 to any charitable organization a client names even if they're not on our list!
As part of our focus on philantrophy, the FSG team members have decided to adopt Veterans Outreach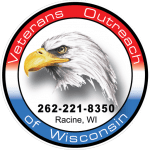 of Wisconsin as a donation project.
"The VOW is in need of basic supplies and items needed for everyday living," said Terri D'Alie, FSG administrator, who has long supported area veterans organizations and programs that provide for their physical, emotional, and daily living needs.
FSG will continue to collect items for VOW throughout the year and invite clients and friends to drop of needed items at our office any time. A collection bin will be set up in our lobby to make it convenient for those wanting to drop off food, cleaning and household items.  Please see the list for the items most needed (and those not accepted by VOW).