You're invited to our Health Insurance before Medicare Learning Event on October 8, 2019
This session is full.  The next session will be held on November 19. Please click here to register for the November 19 session.
FSG clients and guests as well as community visitors are welcome to attend. Seating is limited to the first 15 registrants. Please register below.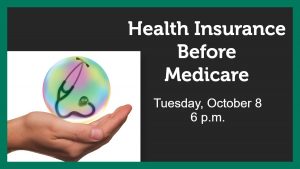 In this session you will hear about differences, costs and coverages associated with health insurance before age 65:
Employer-provided COBRA health insurance
Employer-provided retiree health insurance
Affordable Care Act health insurance
Non-Affordable Care Act health insurance – "off-exchange policies"
Your facilitators: This session will be led by CERTIFIED FINANCIAL PLANNER™ professional, Justus Morgan and Mike Farrell from David Insurance Group.
Seating for our learning events is limited so please register below or call Traci at 262-554-4500 x105.
Register for this Event
Date: Tuesday, October 8, 2019
Time: 6 p.m. to 7:30 p.m.
Location: Financial Service Group | 4812 Northwestern Avenue, Mount Pleasant, WI 53406