You're invited to Creating your Estate Plan Coffee & Kringle – May 16, 10 a.m.
If you're like us, thinking about your estate plan is top of mind for you! Well…maybe not, but wouldn't it be cool to learn about documents, primary versus contingent agents, beneficiaries versus will/probate, annual gifting limits, digital assets, and practical tips. Combined with caffeine and kringle you'll come away with practical answers to your estate planning questions. Join Justin on Saturday, May 16 at 10 a.m. for this all new Coffee & Kringle event.
FSG clients and guests as well as community visitors are welcome to attend our no cost learning events.
Your facilitator: This session will be led by CERTIFIED FINANCIAL PLANNER™ professional, Justin Moilanen. Justin is a lead advisor with Financial Service Group. Learn more about Justin.
Our sessions are designed to encourage discussion among a small group (maximum 15 attendees). We ask all attendees to register in advance so we can plan accordingly. Sessions with fewer than 10 attendees will be rescheduled. Register below or call Lori at 262-554-4500 x105 to reserve your seat.
Register for this Event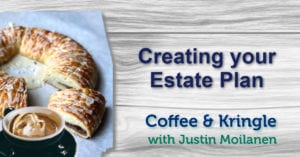 Coffee & Kringle: Creating your Estate Plan
Date: Saturday, May 16, 2020
Time: 10 a.m. to 11:30 a.m.
Location: Financial Service Group | 4812 Northwestern Avenue, Mount Pleasant, WI 53406