Racine walking tour – August 10
Join other clients and friends of FSG for an informative, guided walking tour of our downtown. The tour will be hosted by Justus Morgan and led by volunteers from the Racine Heritage Museum.  There is no cost to clients, but the group size is limited to 20 participants.  Sign up early!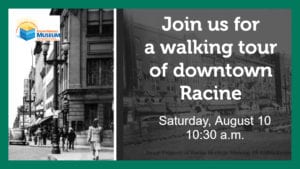 Date: Saturday, August 10
Time: 10:30 a.m. – 12:30 p.m.
The tour is about two-hours long and covers just over a mile through the downtown area. For more specifics on what you'll see, click here to visit the Racine Heritage Museum site.
Recently, the Racine Journal Times ran an article about the walking tours. Check out more info on the tours and what you'll discover along the route here.
We'll be reaching out to attendees with more specifics as we get closer to warmer weather…honest, it's coming!