Learn more about our Associate Financial Planner opening!
An Associate Financial Planner at Financial Service Group serves as the client/lead advisor liaison. Our AFP acts in a supporting role to the lead advisor who is primarily responsible for developing new business opportunities and creating financial plans with our clients. For a high-energy, professional and mature contributor, this is an excellent opportunity to prepare for potential advancement to a lead advisor.
Contact: Tami@toyourwealth.com  Please include your cover letter and resume
Duties and Responsibilities
The AFP prepares client reports and maintains contact with clients to provide or obtain updated information. The AFP participates in client meetings but does not take the lead in an advising or decision-making capacity.
Assists with setting up client accounts; reviewing and maintaining client transactions and activity; and executing client and firm tasks such as transferring assets, generating reports, and generally supporting financial planning and investment strategies. The AFP is also responsible for buying and selling securities as directed by the lead advisor.
Communicating with clients, verbally and in writing
Delivering superior client service—troubleshooting problems, organizing meetings; serving as liaison between advisor and client
Managing client information—preparing client reports, submitting and following up on necessary paperwork, regularly updating CRM software (Redtail)
Gathering, organizing and synthesizing client data within a financial planning context
Preparing client financial plans and presentations for review by advisor
Preparing agendas & reports for client meetings
Preparing meeting notes after client meetings
Preparing year-end tax projections for firm clients
Supporting the sales & marketing processes as directed by advisor
Qualifications
1-3 years of experience in a financial planning environment
Bachelor's degree minimum (CFP® designation completed or in-process highly preferred)
Quick to learn new technology and comfortable with change and uncertainty in ambiguous situations
Self-starter with desire to learn; must be organized, detail-oriented, accurate and able to multitask
Excellent written and verbal communication skills
Team player, collaborative, able to work with and through others and a desire/ability to work successfully in a small company environment
Why join FSG?
In 2023, Financial Service Group, Inc. is celebrating 40 years serving clients in Racine and surrounding communities. Our small, but mighty fee-only firm is a working home to our nine employees including three CFP® planners. Retaining our culture is paramount with every hire and we take our time to make the choice that will integrate with the team, align with our core values, and be an ideal fit in working with our select group of clients.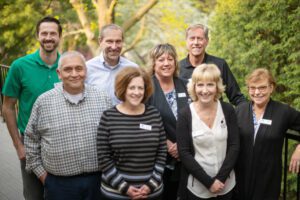 As a fee-only firm, we do not sell financial products or receive commissions as payment. Rather, our clients pay a retainer and we provide them with a full range of services related to all aspects of their financial well-being. Our services include industry innovations such as Career Asset Management, Elder Life Planning, and Caring Hearts Conversations to augment more traditional retirement, investment, tax and other financial planning services. It's our goal to ensure we take care of our clients' financial well-being so they can focus on other important aspects of their great life…as they define it. We are uniquely positioned to respond to the growing population in Racine, Kenosha and surrounding areas as their local, fee-only, financial planning partner.
We know it's our employees that ultimately make us successful. Without a solid team that shares our unique value proposition, we couldn't deliver what we promise to our clients. And we strive to create an environment of flexibility and creativity amid the hard work that goes on every day. Clients are clients of the firm, not of individual planners and we capitalize on the strengths of each team member in the helping them get more than they expect from FSG.
Firm Values
We do everything with heart – in dealing with clients and with each other, we act with compassion, empathy, respect and flexibility. We are present and engage in active listening. In big things and small, we are guided by our internal compass that drives our behaviors to act and respond from the heart.
We honor our commitments – We are responsive to your inquiries. We show up on time to meetings and follow-up with notes and action items. We operate in integrity and you can count on us to do what we say we're going to do.
We are transparent – We know that peace of mind starts with trusting that you have access to full information to help you make decisions about your great life. We believe in transparency in our working relationships–with clients and with each other–through honest and forthright communication, even when the topic is difficult.
We collaborate – our clients are at the center of our financial planning process and team. We work together to align their goals with financial planning strategies that help each of them live their great life.
We never stop learning – Our team knows they need to be ready today and tomorrow to innovate for the future. We believe in professional development and we support an environment that celebrates differences.
If this sounds like you, we want you to be part of our team!
Salary and Benefits
Salary will be based on experience (no commission) and is competitive with industry standards
Benefits – PTO, 401K, Profit Sharing eligible, Health Insurance, long-term disability, parental leave, sabbatical eligible
Financial support for professional accreditation/continuing education requirements and other education/training opportunities
Financial Service Group, Inc. is an Equal Opportunity Employer