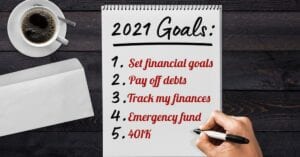 It's over a month into 2021 and the shine on the "new year's resolution" nickel is probably already dulling a little. That is why it's a good time to provide a few reminders of things you can do to help have a financially thriving 2021.
One thing you can do today is set some financial goals for 2021. Goals could involve how much you want to save/spend/donate from each paycheck. They could focus on putting money aside for a pending major purchase like a new car or home remodeling project. Another financial goal could be to get an accurate assessment of your financial well-being including a realistic picture of your investments, savings, and debts.
Consider paying off some debts. If you are carrying balances on high-interest credit cards, you're losing money every month. Work toward a plan to pay those off, reduce the balance or at least commit to not adding to the burden.
Track your finances. There are a lot of online tools available to help you keep track of your budget (there is another tip—if you do not have a budget, create one!). In business, there is a saying that "what gets measured, gets done." That means regular measuring and reporting helps keep you keep focused, guides decision making, and improves results. If you keep track of how much you earn and how much you spend, you will be more aware of the impact on your overall financial well-being.
If you do not already have one, establish an emergency fund. One rule of thumb is to put aside three to six months of expenses in the event of an unexpected job change or loss – or say an unprecedented event like a global pandemic or unplanned sizable expense. It might take some time to build up this kind of reserve so the sooner started the better.
In terms of saving for your retirement, contribution limits for 401(k) in 2021 remain as they were in 2020 at $19,500. If you are age 50 or older, you can make a "catch-up" contribution to your 401(k) of $6,500 for a total of $26,000. Special rules apply when contributing to Roth IRAs so be sure to check with your financial or tax advisor on contribution limits and other considerations. It is recommended to max out your contribution to retirement savings if you are able.
Taking care of your physical and emotional well-being can have a positive impact on your financial health as well. Often people who are suffering from anxiety or depression over-spend on non-critical items as a way of self-soothing or feeling fulfilled. 2020 was a hard year on people's social, mental, and physical well-being. Let's hope 2021 goes more smoothly.